PRAIRIE CEMETERY by G.W. Thomas
An interesting collection of poems and some like a wasp, have a sting in the tail. Described as horror poetry it is for the most part horror of a psychological form - leaving the readers imagination to trigger the spine chill. Happily there are also touches of irony and even humour - I particularly enjoyed the idea that a herd of cows could possibly be a serious threat to the group of people who had meant them harm. Fans of this speciliast genre should not be disappointed by Prairie Cemetery.
Review written by David Parkinson, freelance writer, editor and reviewer.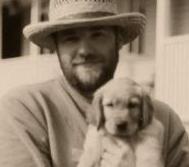 Email